'Cats' becomes a 'Memory'
Broadway's 'Now and Forever Musical' closes at age 18 Andrew Lloyd Webber takes the stage immediately following Sunday's farewell performance of the long running Broadway hit "Cats."
By Harry Haun
SPECIAL TO MSNBC.COM
NEW YORK, Sept. 11 — Sunday night "Cats" ended its 18-year stay at the Winter Garden Theater and became, like its hit song, a "Memory." Time had, incredibly, run out for the so-billed "Now and Forever Musical," the longest-running show in Broadway history. The Playbill marking its 7,485 and final performance carried the show's legendary logo — two piercing cat eyes — but this time there was a tear coming from one of them.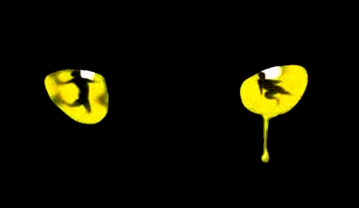 THAT TEAR, FROM the right eye, was repeated on both sides of footlights during the show's emotionally charged exit, which was witnessed by an invited audience of 1,500 friends, fans and aficionados — all of whom were bussed to the Chelsea Piers for a closing-night party, replete with a Grucci fireworks display over the Hudson River that was synchronized to the score of "Cats."
Andrew Lloyd Webber, the man who composed that score, entered the Winter Garden like a golden gladiator of old, and the audience rose as one with cheers and applause.
"Tonight is, in fact, the last night of 'Cats'' first life on Broadway," he joshed at the curtain call, putting a happy spin on the occasion. Then, he thanked the creative team he had in making a musical of T.S. Eliot's "Old Possum's Book of Practical Cats": director (and, in a pinch, lyricist) Trevor Nunn, producer Cameron Mackintosh, associate director and choreographer Gillian Lynne, designer John Napier and lighting designer David Hersey.
"It must be difficult for you to realize here because 'Cats' was already a big hit before it came to New York, but in London it was a huge, huge risk for everyone," he said. "We risked everything. We opened — people don't believe this — with part of our capitol missing. The only thing I will just say is that musical theater has got to continue to take risks."
The principal risk-taker (and big winner), Mackintosh admitted mixed feelings about the show coming to an end. "It's a sad occasion," he allowed, "but we had 18 glorious years. It's ending as gloriously as it opened." On stage, he invoked the work of Gus the Theatrical Cat: "It's been fantastic to be 'part of the mystery and make a little history.' "
Director Nunn, who came from the Royal Shakespeare Company to do a musical in the commercial theater for the first time, counted himself among the people whose lives have been changed by "Cats." Apart from the Tony he won — one of seven the show received in 1983 — he profits substantially from the royalties he gets for doing the words for the musical's megahit. In that respect, he did a deep bow in the direction of the show's late author, "T.S. Elliot, the greatest English and American poet of the 20th century, whose doodlings formed the basis for this show and who was my unwitting collaborator in writing the words to 'Memory.' Probably he would have been unwilling if he had been around."
Nunn apologized to the gathering that he couldn't attend the post-performance party. "I can't bear it, but I can't because I have to catch the last plane out of here to London because a dress rehearsal awaits me in London. And so, in the words of T.S. Elliot — I guess we have to remind ourselves of these words: Every end is a new beginning. Or, translated into Broadway terms, that is 'Another opening, another show.'" (Composer Lloyd Webber — for reasons never determined — skipped the party as well.)
ORIGINAL CAST MEMBERS
Leading the contingent of original-cast members at the show's closing were Ken Page, who first lorded over the litter as Old Deuteronomy, and Betty Buckley who as Grizabella got not only a Tony but also a signature song. "Memory," she conceded, worked particularly well with the evening's fireworks display. "It was really special," she said.
For Page, the evening had been "an emotional ride. Often, I was seeing us [the original cast]. There are some people who aren't with us anymore so I saw them —and moments that we all know we made, little moments of things. Eighteen years of my life passed by."
He said his agent, Flo Rothacker, was "wearing the same shawl she bought to wear to the opening. She said she had to save up for it, $10 a week. Now, she has her own agency."
Marlene Danielle is the only member of the original cast to stay with the show for the entire run. As Bombalurina, she had the actor's dream — steady employment for 18 years.
"Tomorrow," she said, "I'm going to sit in the back yard with my family and just relive this whole thing. It was hard to get through tonight, but I loved having my peers out there, helping me along. You'd better believe there were tears on stage — a lot of tears."
Gerald Schoenfeld — who with the late Bernard Jacobs comprised The Shubert Organization which co-produced "Cats" here with Mackintosh, The Really Useful Company Limited, David Geffen, ABC Inc. and Metromedia Company — was first to address the last-night audience. " 'Cats,'" he told them, "came at a time when the American theater desperately needed a show, and that show was 'Cats.' "
On Oct. 8, 1982 — the day after "Cats" opened at the Winter Garden — Jacobs predicted it would run longer than any other show in Broadway history. "I also want to say to Bernie Jacobs," Schoenfeld postscripted, "Now and forever, Bernie."
[ Final Articles Page ] [ Home ]