Dramatic Paws for 'Cats' Meow
'Memory' lingers on for musical with more than usual nine lives
By Michael Sommers NEWHOUSE NEWS SERVICE
NEW YORK, Sept. 10 — "Cats" pads off into memory after its final performance on Sunday. But the longest-running attraction in Broadway history — 7,485 performances over the last 18 years — will be remembered as more than an incredibly popular hit: "Cats" was an unprecedented phenomenon.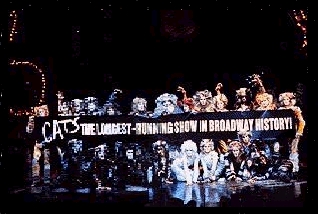 THE SHOW HERALDED a wave of British-born mega-musicals that eclipsed America's long domination of the field. It changed the way Broadway shows were sold. It was — and remains — arguably the most famous musical ever made.
"Practically everyone has heard of 'Cats,"' says Bill Rosenfield, RCA Victor vice president for shows and soundtracks. "'A Chorus Line' was a huge sensation in its day, but it never became part of the collective public conscious like 'Cats' did."
Letterman and Leno mock it. Sophisticates snigger. But when word spread earlier this year that "Cats" would close in June, business boomed so much that producers extended the show through the summer.
"Cats" has been seen by more than 10 million people at the Winter Garden since its Oct. 7, 1982, premiere. Costing $5 million to produce — a record in its day — the show subsequently grossed more than $400 million on Broadway. The show is said to be the biggest generator of income and jobs in Broadway history.
Although nearly 30 million other people have seen "Cats" in its five touring editions across North America, its Broadway incarnation became a magnet for theatergoers from around the globe.
GRUDGING REVIEWS
'It was a [family] show for ... people of all ages and all languages. There were so many visuals to the production and the music was so compelling that language was never a barrier to enjoying it.' — PHILIP J. SMITH president of the Shubert Organization
Reviews were grudging ("If you blink, you'll miss the plot," sniped The New York Times), but fueled by huge advance sales — $6.3 million, another record at the time — the show proved an instantaneous success with audiences. The lure, despite those reviews, was thrilling word-of-mouth about director Trevor Nunn's imaginative environmental staging and Andrew Lloyd Webber's glistening music.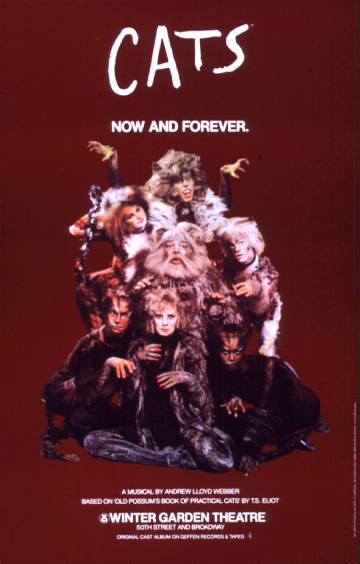 Opening in a notably dismal musical season in which every other original tuner flopped (Do you remember "A Doll's Life"?), "Cats" nabbed seven Tony Awards, including best musical. And as the years went by, "Cats" evolved into a must-see for sightseers.
"It was a show for the entire family — for people of all ages and all languages," says Philip J. Smith, president of the Shubert Organization, one of the show's major Broadway producers. "There were so many visuals to the production and the music was so compelling that language was never a barrier to enjoying it."
British producer Cameron Mackintosh's promotional genius, which sold "Cats" with a monolithic image of giant yellow cat's eyes and a resonant "Now and Forever" slogan, drew wider audiences than Broadway's norm. Ad dollars were invested heavily in Japan and other countries that sent large numbers of tourists to New York.
"The show marked the advent of marketing Broadway as a destination in itself," notes Jack Viertel, creative director for Jujamycn Theaters.
Plentiful television advertising was key to drawing domestic audiences, says Smith.
DIFFERENT MUSICAL
"Cats" also was an entirely different musical. Drawn from T.S. Eliot's "Old Possum's Book of Practical Cats," a collection of whimsical poems about a motley crew of felines, the dance-driven, dialogue-free show featured only the slightest whisker of a story.
The interior of the Winter Garden was transformed into a fantastic junkyard where furry denizens prowled and played as they awaited the Jellicle Ball in which one lucky cat was chosen to have an extra life.
No less an expert than "My Fair Lady" writer-lyricist Alan Jay Lerner admired Lloyd Webber's music: "The score is remarkably theatrical with one absolutely beautiful song, 'Memory,"' he wrote.
Grizabella, the bedraggled glamour cat who sings "Memory," has provided a juicy role for actresses. Judi Dench was supposed to originate the part but tore an Achilles' tendon late in rehearsals for the 1981 London premiere and was replaced by Elaine Paige.
In New York, Betty Buckley won a best featured actress Tony Award in the role and was later succeeded by the late Laurie Beechman and Liz Callaway, among others. Terrence Mann, Ken Page and Harry Groener were also in the original Broadway production.
Marlene Danielle, who began as an understudy and graduated to the part of Bombalurina, is the only performer to remain with "Cats" during its entire Broadway run.
NEW FOR BROADWAY
'"Cats" ushered in a new era that is now coming to an end.' — JACK VIERTEL artistic director, Encores! concert series
"'Cats' gave the musical theater world the permission to create a new kind of Broadway event in terms of storytelling," says Viertel, who is also artistic director of the Encores! concert series of vintage American musicals. "It's not exactly a revue, not exactly a book musical, but instead it makes an evening's entertainment out of a series of exciting events that takes you on some sort of a journey."
Other British spectacles followed over the next decade, including "Starlight Express," "Les Miserables," "The Phantom of the Opera" and "Miss Saigon." "'Cats' ushered in a new era that is now coming to an end," says Viertel.
Ever-mounting costs of producing such spectacular events have become prohibitive, and their makers have suffered creative setbacks. Lloyd Webber's "Sunset Boulevard" ran on Broaday for two years but still lost $10 million, and the "Les Miz" team's "Martin Guerre" never made it to Broadway.
Meanwhile, one by one, the aging British mega-musicals are slowly losing steam. "Miss Saigon" closes at the end of the year.
IMPACT LINGERS ON
But as the song "Memory" goes, the effect of "Cats" still lingers on. RCA Victor's Rosenfield points to Cirque du Soleil's series of circus spectacles as "Cats" offspring, while Viertel considers current hits "Swing!" (which he helped create) and "Riverdance — On Broadway" as other descendants.
In the newest generation of shows, Disney attractions like "The Lion King" and "Aida" manage to combine a book musical with extravagant physical accouterments. "I think that 'Cats' certainly has broadened the scope of musical theater," says Viertel.
Although "Cats" is passing here (it continues to run in London, where it originated), Rosenfield believes Broadway hasn't seen the last of the show. He predicts a scaled-down version will likely pop up at one of Broadway's smaller musical houses before too long. "Look for it to come back in two or three years," he suggests.
So, it's one life down for "Cats" — and probably eight more to go. At the very least.
--------------------------------------------------------------------------------
© 2000 Newhouse News Service

[ Final Articles Page ] [ Home ]