THE FINAL CURTAIN FALLS ON CATS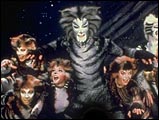 The curtain fell last night (10 September) on Broadway's longest running musical 'Cats'. After almost 18 years and 7485 performances, 'Cats' closed before a specially invited audience of fans and former cast members at the Winter Garden Theater. Throughtout the performance, the audience were encouraging the cast and almost brought to show to a stop after the 'Jellicle Ball' number where the cast recieved a rapturous applause. The original 'Grizabella', Betty Buckley commented
"It's just a wonderful show. It's great T.S. Eliot poems, of course. And it's set to wonderful music by Andrew Lloyd Webber," said Buckley. "I personally think it's like moving art, you know, it's so beautiful to look at. I can't imagine what it's going to be like around here without Cats."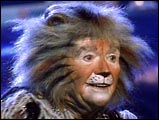 The show's composer and co-producer, Andrew Lloyd Webber told the audience after the performance "It's possibly difficult for you to realize here, Cats was already a big hit in advance before we came to New York, but in London, it was a huge, huge risk. People don't believe this but we opened with quite a lot of our capital missing. The only thing I will say is musical theater has got to continue to take risks.", reitterating his calls for more risks to be taken in musical theatre.
Lloyd Webber called upon fellow producer Sir Cameron Mackintosh director Trevor Nunn and choreographer Gillian Lynne to join him on the stage as they waved goodbye under a shower of confetti as the audience cheered, shouted and even cried. Later the festivities moved from the theatre to a gala party, with Grucci fireworks, at Chelsea Piers, a sports and entertainment complex along the Hudson River. Lloyd Webber and Nunn did not attend as they ad to fly back to London.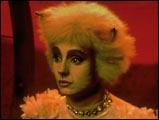 When news of the closure was announced, people rushed to buy their tickets forcing the producers to extend the run an extra 3 months. Cats has been seen by over 10 million people on Broadway and has took over $400 million. The show continues to enjoy West End success.
>^,,^<
[ Final Articles Page ] [ Home ]