'Cats' Takes Bow on Broadway
By MICHAEL KUCHWARA, AP Drama Writer
NEW YORK (AP) - ``Now and forever'' is here and gone.
``Cats,'' Broadway's longest running show, hung up its whiskers, tails and toe shoes Sunday after nearly 18 years and a record 7,485 performances.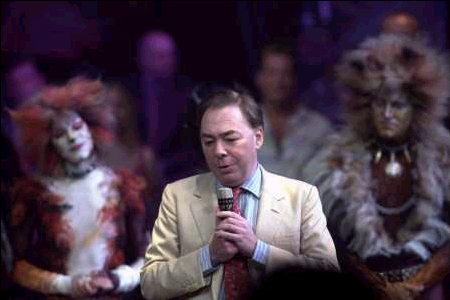 ``Tonight is the last night of `Cats'' first life on Broadway,'' its composer, Andrew Lloyd Webber, said after the cast and orchestra players took their bows to a screaming, cheering audience. ``So I wouldn't get too excited. I don't quite know what the fuss is about.''
And fuss, they did. The standing ovations started even before the show began when Lloyd Webber took his seat in the Winter Garden Theater, where the musical first opened on Oct. 7, 1982. Cheers continued throughout the performance, with sustained applause after every song.
One theatergoer yelled ``Go for it,'' as the company began ``The Jellicle Ball,'' a big dance number near the end of the first act. It was the night's longest standing ovation, literally stopping the show.
Taking the stage with Lloyd Webber were director Trevor Nunn, choreographer Gillian Lynne and producer Cameron Mackintosh.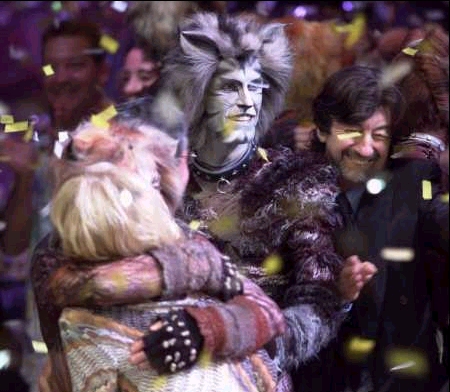 As they waved goodbye, a shower of yellow, white and silver confetti filled the theater, covering the cast and still-applauding theatergoers.
It was an emotional weekend at the Winter Garden, starting with the Saturday matinee where the audience included alumni from the musical's Broadway and touring productions. The Saturday evening performance was a special benefit for the Actors' Fund, the theater service organization that takes care of entertainment professionals. And the final performance Sunday was by invitation only.
``Cats'' is based on ``Old Possum's Book of Practical Cats,'' a collection of poems by T.S. Eliot, who even though he died in 1965, received a Tony Award 18 years later for his contributions to the score. His widow became a very wealthy woman, receiving royalties from a show that has grossed more than $380 million on Broadway alone.
The musical began the dominance of the big British musical on Broadway, an influence that has started to slip - ``Miss Saigon'' also will close New Year's Eve - but may never fade away.
``Remember, two others - `Les Miserables' and `The Phantom of the Opera' - are still with us,'' theater historian Ken Mandelbaum said. ``And one, if not two, may eventually pass `Cats' in longevity. `Phantom' only has six years to go.''
``Cats'' was considered quite unusual when it first opened on Broadway, Mandelbaum said. ``It wasn't a book musical. It was all music and very dependent on dance.''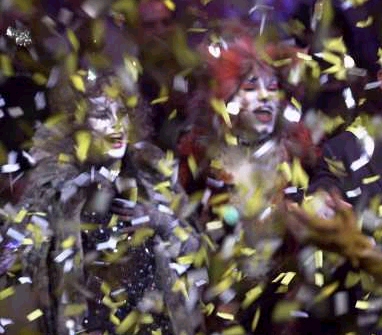 Over the years, the musical became the show people loved to hate, with everyone from Letterman to Leno making fun of its pop score, lavish setting, and those furry creatures crawling all over the stage and the audience.
``If `Cats' had only run four or five years, there wouldn't have been the resentment again it,'' Mandelbaum says. ``People didn't want it to be the longest running show,'' especially after it took the long-run crown away from a homegrown product, ``A Chorus Line'' in June 1997.
Still, audiences came, singing ``Memory,'' the show's most persistent melody, sung in the show by Grizabella, the musical's faded glamour cat. She climbs in the show's final moments to ``the heavy-side layer,'' a feline version of heaven.
``Cats'' went out with a roar rather than a meow.
The show originally was to have closed June 25, but a surge in ticket sales led to an extension. For much of the summer, it was one of Broadway's highest-grossing shows, often operating at more than 90 percent capacity, and pulling in grosses of more than $550,000 a week as tourists and die-hard fans flocked back.
For the first time since 1982, the Winter Garden, one of Broadway's most visible theaters, will be dark. One of the few theaters actually located on Broadway, Winter Garden has a giant marquee that until now has sported the show's ubiquitous logo - a pair of yellow cats' eyes.
A new tenant already has been booked and theater people think it could be the next blockbuster. After an extensive renovation and restoration, the Winter Garden will reopen with another London success: ``Mamma Mia!'' - a musical built around ABBA's greatest hits. Yet don't plan on seeing it anytime soon. Opening night for ``Mamma Mia!'': Oct. 18, 2001.
~~~~~~~~ >^,,^< ~~~~~~~~
[ Home ]