---
Issue 3 -------- The Oddball Times-------- Sept. 29, 2000
---
The Search Continues for the Hidden Stalker

ORLANDO, FLA - The authorities have interviewed all the resident bad guys here in Disney World. "I'm not sure what to tell you," said the captain in charge of the investigation. "We've talked to Gaston, Jafar, Captain Hook, Maleficent, Ratcliffe, Cruella DeVille, Scar, and Ursula. They've all had confirmed alibies."
Disney characters contacted today expressed shock at one of the world's beloved film and tv stars being stalked with
Chip and Dale: The Rescue Rangers can't even figure it out!
Peter Pan: I just don't 'believe' it.

Belle: Whoever it is must be a 'beast'!
Jiminy Cricket: I 'wish' it wasn't so for such a 'star'.

Simba: That's just the 'circle of life'.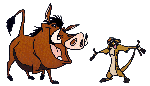 Timon and Pumba: Hakuna Matata.
Aladdin: It seems like we're in a 'whole new world'.
Pocahontas: I'm sure we'll find the answer 'just around the riverbend'.
Sebastian: You never see this kind of thing 'under the sea'!

Pooh: Think. Think. Think.

Tigger: Well, he's not a Tigger, because Tigger's bounce! They don't hide!
Buzz Lightyear: We'll send him 'to infinity and beyond'!
Mary Poppins: Supercalifragilisticexpialidocious.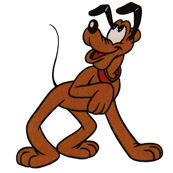 Pluto: Woof!
On a side note, it seems that Pluto has been a little miffed of late because for some reason there have been a number of times in which people have called him 'Plato' instead of Pluto.
This just in....As I was writing out the latest report, I got a tip from an anonymous caller who told us to call her Celine. She said that she knew who the stalker most-likely was. But all she would tell me was that he was known as the Hidden Paw. Our Investigative reporters are on the search and we'll give you more information as soon as we find it.
---
[ News Issue 1 ] [ News Issue 2a ] [ News Issue 2b ] [ Home ]

---
Disclaimer: This is not a real news report. It was made only in fun and was meant to be taken that way. In no way should this article be taken seriously.