Utah Purrs as Long-Lived 'Cats' Tails Off Into Broadway History
Sunday, July 2, 2000
Tamera Christine Shepherd and her husband, Wayne, crossed the United States in the fourth and final national touring company of "Cats." Tamera is now off to New York for the final run of the Broadway musical, which is scheduled to bow out on Sept. 10 after 7,485 performances.
BY SCOTT C. MORGAN
THE SALT LAKE TRIBUNE
When Salt Lake City's Tamera Christine Shepherd got a call asking her to be a part of Broadway history, she instantly said "Yes."
The unexpected invitation came June 23, when the Johnson Liff Casting Agency asked Shepherd to join the final New York company of "Cats." Now playing into its 18th year, "Cats" will hold the distinction of being Broadway's longest-running show ever, with 7,485 performances, when it reaches its tentative closing date of Sept. 10.
"I've never performed on Broadway before," Shepherd said while she was still in town and frantically packing. "When I was offered this, I realized that it's something you can't pass up."
Since rehearsals for the final cast of "Cats" were set to begin Friday in New York City, Shepherd had to instantly uproot her life -- which she did in five days' time.
But she has plenty of experience when it comes to traveling at a moment's notice and already has a claim to a part of theater history.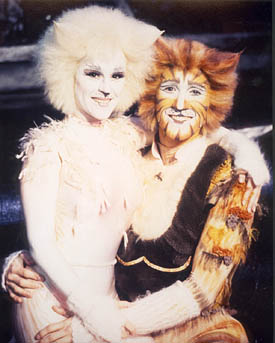 For the past year, Shepherd toured across the United States in the fourth and final national touring company of "Cats," which finished its record 13-year run in December. Cast as a swing and understudy covering the roles of Sillabub, Rumpleteazer and Victoria (the white cat), Shepherd had her husband, Ryan Shepherd, performing alongside her in the tour as Shimbleshanks (the railway cat) and later as a swing.
Both auditioned locally for "Cats" in December 1998 when Tamera, then 22, was initially cast and later joined by her husband 10 weeks after she started. Once the tour ended, the Shepherds moved back to Utah. Ryan, a graduate of Brigham Young University's music-dance-theater program, started studying with the Utah College of Massage Therapy and Tamera started work with an emerging salon/lingerie studio.
On Broadway, Shepherd will work once again as a swing, covering the same "short kitten" roles as when she toured. Since the production managers were familiar with her work and a replacement was needed on short notice, Shepherd did not have to re-audition.
"There's been a lot of shifting in the company," Shepherd said, noting that many of the performers she worked with in the tour are now in the Broadway cast.
"It's just like the military. If they call you to be somewhere like Pittsburgh or New York, you go," said Cynthia Fleming, an 11-year touring and Broadway veteran of "A Chorus Line," the show that held the longest-running record on Broadway before "Cats" broke its 6,137-performance streak in 1997.
Now working for the Salt Lake Acting Company as a marketing director and a choreographer for "Saturday's Voyeur 2000," Fleming knows about all the excitement Shepherd will face in the upcoming months. When "A Chorus Line" closed 10 years ago, Fleming played Maggie (the dancer/wife who couldn't "Sing") in the final Broadway cast.
"After the closing date was announced, every night soon sold out. The run had to be extended, and each night we had stars in the audience," Fleming said. "We had little time to feel sad about the show closing, since all the excitement and audience response made it almost feel as if we were opening the show."
Although Shepherd already has a year's experience with "Cats," she will have to adapt to the many differences between the small-scale touring version and the grandiose Broadway production, which converted New York's Winter Garden Theatre to accommodate its huge junkyard set. Instead of taking cues from a conductor in an orchestra pit, Shepherd will have to watch his image on television monitors since the orchestra is offstage. And while Shepherd is scheduled to perform each of her roles at one point or another, as an understudy and swing she does not have a guaranteed number of performances.
Having worked before as a swing, Fleming hopes Shepherd is lucky enough to go on and perform as much as possible. Fleming also offers this advice: "Enjoy every single moment of it."
"I've never performed on Broadway before. When I was offered this, I realized that it's something you can't pass up." ~Tamera Christine Shepherd part of the final Broadway cast of "Cats."
[ Final Articles Page ] [ Home ]